Golf GTI shakedown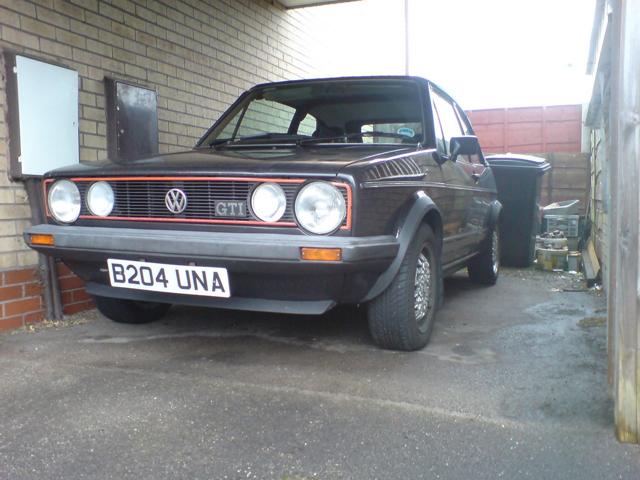 Faced with the possibility of 600 miles through England and France with five people in a car to accompany my parents on holiday, I decided to buy my own car.
Not wanting to take an easy option, I bought a 1985 Volkswagen Golf GTI Convertible. This replaced my previous but younger 1990 Nissan Sunny 1.4 LS, which was a remarkably reliable and well handling car if not particularly sporty.
This Golf is in good mechanical condition for a car of its age, and its chassis has been sealed well and is free of rust. I bought it from a private seller in Stockport and immediately took it to a garage for a check over. We fitted a new clutch, timing and alternator belt, and had both rear wheel brake cylinders replaced and the tyres re-sealed. This service cost almost as much as the car cost me in the first place, but I was expecting that.
The first run out was to Wales for a camping weekend. The fuel delivery problem became apparent during this run. It started kangarooing and cutting out while driving through the centre of Manchester, but with a good battery to keep starting it, it managed to get out without any serious problems. Once on the motorway it had no problems.
The Mk1 Golf GTI uses a Bosch K-Jetronic fuel injection system, which is an entirely mechanical multipoint but non-direct petrol injector system. A fuel pump under the driver's seat pumps fuel at injection pressure (I think) into an adjacent accumulator to cope with peak demands, which then feeds up to a fuel distributor in the engine compartment. The problem manifests as an infrequent but sometimes severe lack of power, often enough to stall the engine. My own experience from driving it makes me think there are large air pockets in the fuel, but I have been very wrong about diagnoses in the past. I think it's likely this problems does occur while driving on the motorway but is not noticed in the momentum at those times.
The fuel problem had been declared by the previous owner when he sold it to me, and he had done a lot of work to try and resolve it - fitting a new fuel pump, fuel distributor and injectors amongst other things but these evidently hadn't fixed it. Mk1s often suffer from rusted fuel filler tubes, and while this had been replaced on mine, there is a strong possibility of rust in the fuel tank contaminating or blocking the other systems. Just before leaving for France, I replaced the fuel and air filters as I had no evidence of their being recently changed. The old fuel filter did emit ominously brown fuel at the tank side when removed. I hoped the new filter would permit more fuel through and solve the problem.
As well as this, I replaced the fixed offside mirror which was deflecting under motorway winds with a decent one with remote cable controls. This would be especially important when driving in France. I also replaced the original cigarette lighter socket with a modern one which would accept an accessory plug without falling out, and correctly connected the passenger door lock so it could be locked and unlocked from the inside.
Unfortunately, at nearly the last minute I also noticed the reversing lights were not working. I had lighting problems with my old Nissan and patch wired them, but reverse lights are a bit tricky because UK law (as I understand it) requires that they can only be activated when reverse gear is engaged - a switch on the dashboard won't cut it. After a while prodding at a rather inaccessible switch unit on the gearbox, I decided to fix a microswitch to the gear lever housing in the cabin. I used Polymorph, a low melting point thermoplastic to construct a solid structure for the switch around the gear lever. I would recommend keeping a pot of this stuff around for emergency repairs to any engineer.
With that fixed, I set off for the Latitude festival. The fuel problem appeared once again while picking up a friend from Manchester, but after that there were no problems. Me and the Golf proceeded on to Saint-Barthelemy in Brittany and back, the only problem being an embarrassing incident while loading onto the return ferry. Near the top of the loading ramp, it cut out and would not restart for more than a few seconds, and this required us to raise the ramp and push it into position on the car deck. After sitting idle for 10 hours on the deck, it restarted with no problems and proceeded to drive back to Bolton via Hertfordshire without any further issues.
The fuel problem will be an interesting one to debug. A full inspection of the tank and the fuel lines will be the next project. One of the rear wheel cylinders also appears to be leaking again, but hopefully this will be fixed under guarantee.